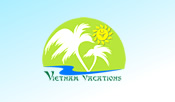 QUICK SEARCH

| | |
| --- | --- |
| | HOTEL |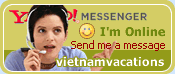 WEATHER

| | |
| --- | --- |
| Ha Noi | 24 - 32oC |
| Lao Cai | 26 - 34oC |
| Lang Son | 23 - 31oC |
| Vinh | 25 - 34oC |
| Hue | 24 - 34oC |
| Da Nang | 25 - 34oC |
| Qui Nhon | 26 - 28oC |
| Nha Trang | 25 - 33oC |
| Phan Thiet | 26 - 32oC |
| Ho Chi Minh | 25 - 36oC |
| My Tho | 27 - 36oC |
| Can Tho | 25 - 35oC |
| Ca Mau | 25 - 35oC |
EXCHANGE RATE

| | |
| --- | --- |
| AUD | 12'675,00 |
| EUR | 23'162,00 |
| GBP | 25'685,00 |
| HKD | 2'267,00 |
| JPY | 174,00 |
| SGD | 11'583,00 |
| USD | 17'780,00 |
| CAD | 14'290,00 |
| CHF | 15'148,00 |
| THB | 490,00 |
Visitors: 1211746
FEEDBACK




Thanks for any of your ideas to help us to improve our services. Please take time to send us your email after your trip in Vietnam. Once again, thank you.




Andrew and Pat Gladstone - 02 people
Trip:

Saigon

tour

Thanks to your company for helping to make our visit to Vietnam a memorable one. Zen was an outstanding tour guide and we also enjoyed his company.
All the tours etc that we went on were on time and very well organized as was our pick up from and to the airport.
Finally, a big thank for our beautiful dressing gowns, they really are a work of art and to be able to wear them both sides is an add bonus.
We will definitely recommend your company to any of our friends who visit your country in the future.
Hope we will be back sometime.



Regards,
Andrew and Pat Gladstone

Grigory Zarayskiy and Nina Silen - 02 people
Country: Russia and Finland
Trip: Vietnam Itinerary with Mekong river

We are now safely at home. The wonderful trip is over. Thank you very much indeed - everything was absolutely delightful. Please pass my best regards and many thanks to each and every member of your team. I wish you all the best and look forward to partner with you again in future.



Best regards,
Gregory

Mr.\Mrs. M.G.B. Hammer (Dutch Tourists)

Trip:

Ho Chi Minh tour (04 days)

I have a very nice trip in city. Thanks. You are a professional tour operator. I like to contact you because you always reply immediately and your rates are good prices. Besides, you still advise us to look for the best hotels for ours. Thanks.

Mr. / Mrs. de Jong (Dutch Group)

Trip:

15 days

Vietnam

Cambodia

……… I would like to write something to thank you and your guide. We enjoy really our trip. Your guide is very good. He spoke English and some Dutch too. We were so funny to listen his Dutch but It is OK. He just began. We teach him a lot of Dutch too. ….

We will come back Vietnam in future and

we will book him again for our next trip in Vietnam

. Thanks for your good arrangement.

Ray Sommers (Dutch group of 20 people)
Trip: 21 days in Vietnam

I would like to inform you of the excellent work of Mr. Loc. He speaks the perfect English, knows everything and could answer all of our questions. He really takes good care of his guests and even speaks some Dutch. We were very pleased with the work of Mr. Loc – your guide and all the services of your company. Thanks very much. We were very lucky to have Loc as our guide, he really made up for the lack of work of our Dutch tour leader and he has worked for two. Once again, thanks for your service, good guide and I must say your excellent bus driver. Best regards - Ray Sommers.