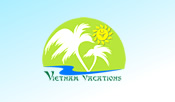 QUICK SEARCH

| | |
| --- | --- |
| | HOTEL |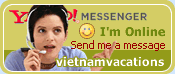 WEATHER

| | |
| --- | --- |
| Ha Noi | 24 - 32oC |
| Lao Cai | 26 - 34oC |
| Lang Son | 23 - 31oC |
| Vinh | 25 - 34oC |
| Hue | 24 - 34oC |
| Da Nang | 25 - 34oC |
| Qui Nhon | 26 - 28oC |
| Nha Trang | 25 - 33oC |
| Phan Thiet | 26 - 32oC |
| Ho Chi Minh | 25 - 36oC |
| My Tho | 27 - 36oC |
| Can Tho | 25 - 35oC |
| Ca Mau | 25 - 35oC |
EXCHANGE RATE

| | |
| --- | --- |
| AUD | 12'675,00 |
| EUR | 23'162,00 |
| GBP | 25'685,00 |
| HKD | 2'267,00 |
| JPY | 174,00 |
| SGD | 11'583,00 |
| USD | 17'780,00 |
| CAD | 14'290,00 |
| CHF | 15'148,00 |
| THB | 490,00 |
Visitors: 1209648
| | |
| --- | --- |
| MICE (MEETING – INCENTIVE TRAVEL – CONFERENCE – EXHIBITION ) | |

| | | |
| --- | --- | --- |
| | WE MAKE GROUP TRAVEL EASY ! | |

Vietnam Vacations is among the best in the business at arranging and coordinating all the details that go into a successful gathering. Flexibility is the key here. We are always ready at your services. There is no group too large, no detail too small …… a comfortable thought for arranging well all of your services.

Typical groups we handle include: corporate Meeting, Incentive travel, Conventions, Exhibitions, Events and special interest groups that have targeted on Vietnam for a special reason.

| | | |
| --- | --- | --- |
| | WHY VIETNAM ? | |

Vietnam has stable economics and politics in the region. After September 11 attacks, The World bank and the City Bank have granted Vietnam one of the safest countries. In addition, Vietnam now is enjoying an economic uprising. A breed of new hotels with International standard accommodation and conference facilities has sprung up in the past few years to meet the ever-growing demands of holiday makers and business travelers in the world.

Facilities & Locations
Vietnam has joined the ranks of world class Meeting, Convention, Conference, Exhibition, Event destinations.
Whether It is 6 or 600 square meters for your meeting or even Vietnam can meet, or even surpass your expectations.
Whether It is a professional production or an innovative, adventurous & challenging scene you desire we have rural and downtown suggestions for you.

Service Culture
With unique and diverse cultural, culinary and scenic locations to enjoy outside of business hours and a service ethic second to none during business hours, your small or large function will be a hit with all attendees.

Pride of a Nation
Leisure Travel to Vietnam has grown unceasingly by more than 100% each year over the last 5 years (Ave. approx. 109 %)

Business Travel to Vietnam has grown by more than 100% each year over the last 5 years (Ave. approx. 116 %)

National economic growth has increased by an average rate of 07%.

Foreign investment in Vietnam has continued to go up each year since foreign investment law was introduced. 660 new projects are licensed in 2003 in total of 4324 legal investment projects in Vietnam.

As a nation we take pride in and showcase our developing industries, our attractions, as a business location and our aim of excellence within the region.

Come and see what all the fuss is about.
Think of Vietnam for your next business travel destination, we warmly invite your offer of interest, obligation free!

| | | |
| --- | --- | --- |
| | WHY US ? | |

We are one of the leading tour operators in Vietnam. We offer specialized services, excelling as your Destination Facilitator in cooperation with all the main tourism suppliers (hotels, restaurants, entertained places, ……) as well as the National body of tourism as Vietnam National Administration of Tourism and various Government Ministries (transportation, Communication, Industry, Planning & Investment and more ) We have opened with success due to demand our dedicated Incentives & Meetings Department.

We offer services as your Destination Facilitator in Vietnam. We know and understand the importance of having a representative on the ground, on location. It can be difficult to obtain all the details before arrival and challenging to understand all the nuances of a location before an event. Our consultants will facilitate each and every request from your side, while in addition strive to anticipate the "extras" you need to know.

We will provide an overall consultancy and booking services from start to finish for tour programs combined with business travel purposes such as:

- Organizing the Meeting with leaders of the ministries, cities, provinces, districts, social organizations, economic sectors for searching opportunities of investment, trade, sport, in the culture exchange etc…..
- Providing services as gala theme parties, team buildings, motivation events, host services to seminars, meetings, conferences, conventions which related to any sector or profession.
- Organizing visits to organizations, companies, factories in different sectors in whole country such as: Vietnam Chamber of commercial industry and trade departments, commercial companies of cities and provinces.
- Organizing the exhibitions to introduce the new products to the local people and dealers and helping to promote your products after conducting the marketing research in Vietnam market.

• Agricultural, planting and breeding.
• Fishing.
• Manufacture of food products and beverages.
• Manufacture of textiles, papers, plastic products, rubber products.....
• Traditional craft villages, silk and ceramic products.
• Post and telecommunication.
• Electrical technology and communication.
• Heavy industry.
• Construction.
• Chemical.
• Health care, hospital, pharmaceutical products.
• Transportation.
• Tourist industry.
• Education: University, secondary school, primary school, elementary school ....
• Services that is related to recreational, cultural and sporting activities.
• Others.

As Destination Facilitator for your important events, we handle all the Organizational Logistic skills: Details, details details and Constant Communication with the Client.

Come to our services. We offer an impartial overall consultancy. Where your business is our business !

| | | |
| --- | --- | --- |
| | MEETINGS | |

After years as a closed economy, Vietnam opened up to foreign investment in 1987 with the promulgation of the foreign investment law, considered one of the most liberal in the Asia Pacific region. The opportunities the country has to offer have been greeted enthusiastically by foreign investors, and over 40 countries are now investing in Vietnam.

As well as planning your meetings location, maybe you require a meeting with the relevant Government Minister ? With links through the government, we take your time and investment seriously and can arrange a one on one Questions and Answers with the relevant ministry official or advisor.

VISIT FROM INTERNATIONAL BRANCH OFFICE
Even if your company is based in Vietnam, you will enjoy the smooth and seamless way, we assist with all arrangements for your meetings with the out of town executives. Services including transportation to view factory or workplace or interpreter services.
YOUR OFFICE AWAY FROM HOME
Sales calls tiring you out ? Why not invite your clients for refreshments and meeting at your "Office away from Home". Set up with real time links (Internet, Conference calling etc. ) to your head office, your clients will enjoy meeting with you, all information at your fingertips in a comfortable, focused environment.
MEETING IN THE MIDDLE
Looking for a fresh, new destination to hold annual review meetings ? Coming from all over the world ? Join all of your Executives in Vietnam and we will help to plan your reviewing or forecast meeting sessions around a bit of social out and about.
WHAT IS R+R+R ?
Whatever your Reasons, please be sure and send us your Requests and we will make your Meeting desires a Reality !

| | | |
| --- | --- | --- |
| | CONFERENCE – CONGRESS - CONVENTION | |

With all the benefits of our MICE department, your conference in Vietnam achieve accolades with delegates, attendees and organizers alike.
Often catering to larger numbers, these (medium to large sized) functions require all the demands of a well run theatre production; the Planning on Paper (or playwriting), the choosing Host Staff, Presenters and Themes (the cast), Selecting the Venue (the theatre) and All Associated Details (lighting, sound, props, ticket sales people, greeters, ushers, intermission refreshments), the Gift on Exit or Product Sample.

SHOWCASE YOUR PRODUCTS TO VIETNAM BUYERS
VIETNAM is a largely untapped market for foreign products. We will help you to promote effectively your products. Also we conduct you to work with well known Marketing research companies for your presentation.

SPECIAL BRAND LAUNCH
Advertise your company branding by launch party guaranteed to boost your profile and create demand.

MEETING OF INDUSTRY MINDS
Specialists fields coming together to share information and latest news, medical breakthroughs, think tank ideas or discussions of common interest.

Translating your wants and needs into Reality and a successful event to be the talk of all attendees and delegates for years to come !

| | | |
| --- | --- | --- |
| | EXHIBITIONS - EVENTS | |

On an even larger scale, Vietnam boasts two Large International Standard Exhibition Centers in two main city as well as countless smaller venues to hold your Medium to Large Level Event.

1. GIANG VO INTERNATIONAL EXHIBITION IN HANOI CAPITAL.
2. HIECC (Hoang Van Thu International Exhibition Commercial Center) IN HOCHIMINH CITY.

Exhibitions remain a unique way to display your products to advantage in a limited area. Apart from the design and fabrication of individual exhibition stands, we create entire exhibition sites and national government pavilions on a turnkey basis from conceptual design, from production to dismantling.

The multi purpose facility is specially built to cater to diverse needs:

- Exhibitions and Travel fair.
- Events and promotions.
- Meetings, seminar and conventions.
- Consumer fairs.
- Banquets.
- Special events and promotions.
- Product launches.
- Concerts & theme parties.

| | | |
| --- | --- | --- |
| | INCENTIVE TRAVEL | |

We understand that participants in this program to our country after the culmination of a Company's program of Motivation or Recognition – Rewarded for their increased levels of Performance and Attainment of goals or similar.

With different needs and expectations we will consult with you to provide unique full service travel incentive programs and destinations….. We offer your organization flexible incentive program and motivation options to increase profits and raise performance and loyalty levels among your incentive program participants.

Please contact us with your requirements. We have arranged many Incentive groups so we have ready ideas for your satisfaction. You will get our reply within 24 hour.